Surf Club ©
Established on October 17, 1985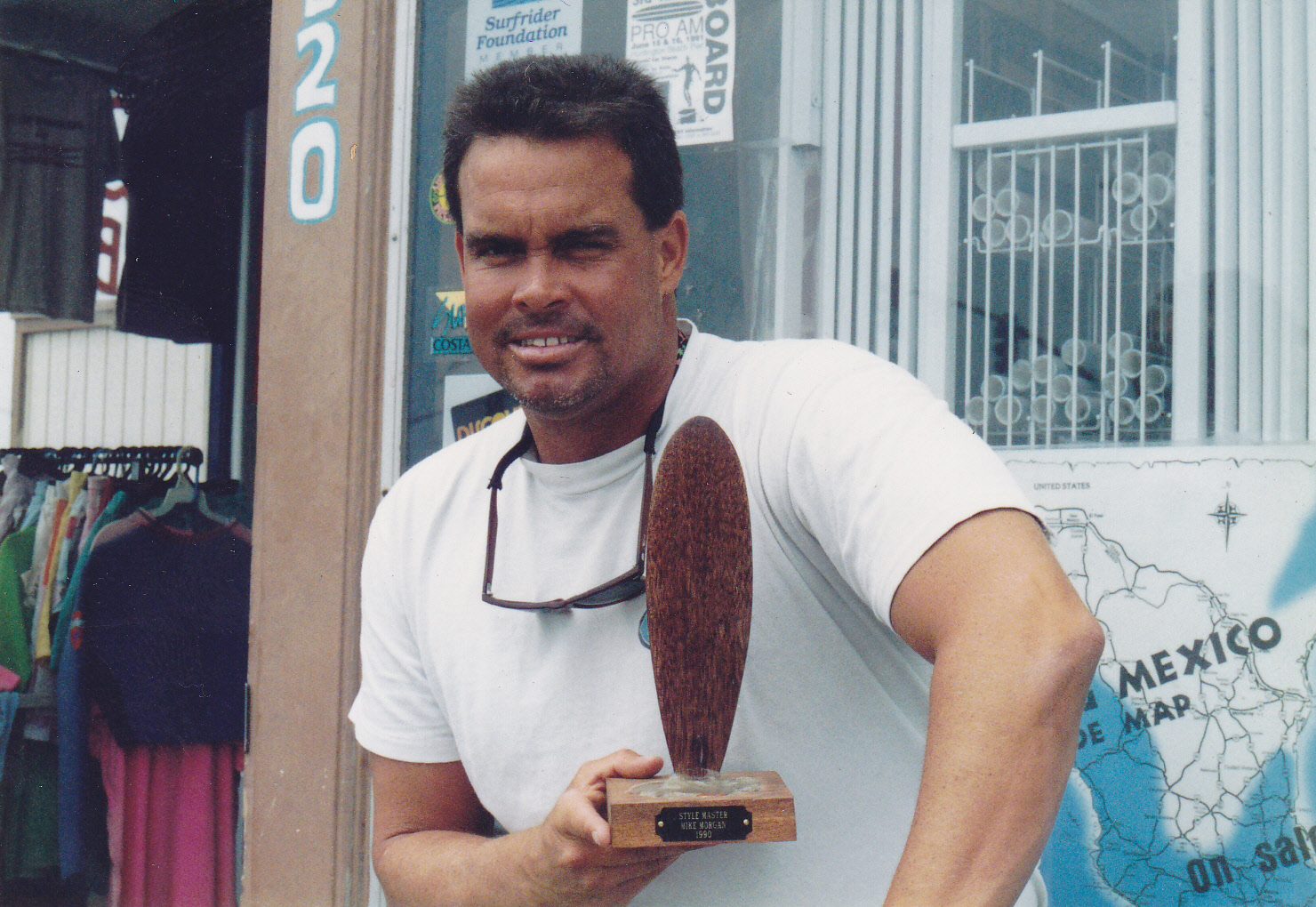 1990 HBLC Stylemaster Award for Mike Morgan - photo by Sarge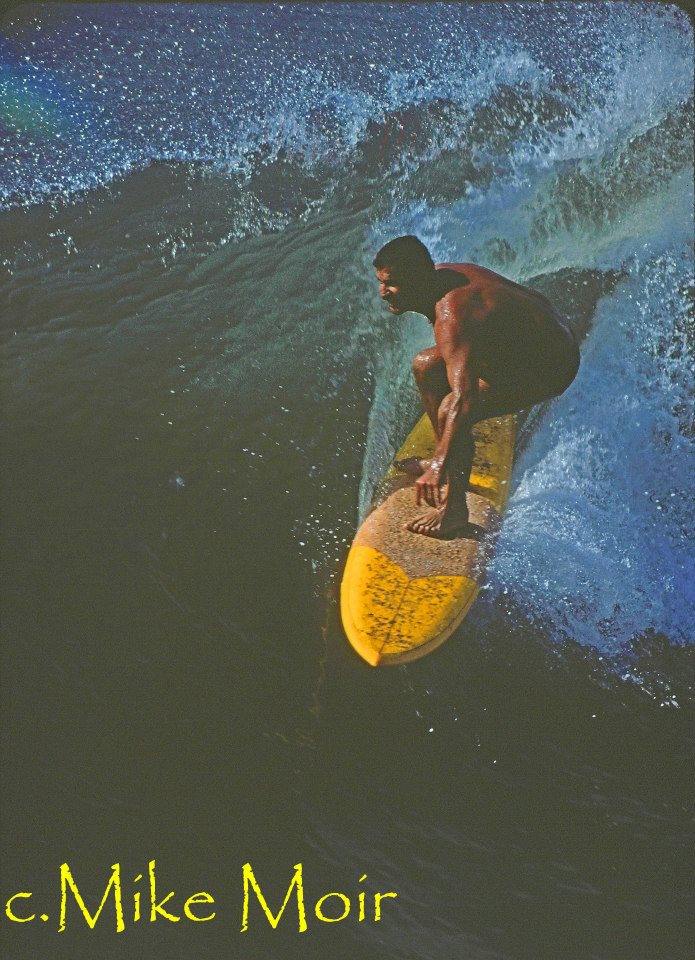 2019 HBLC Perpetual Award for Chuck Linnen - 1970's photo by Mike Moir
Our Club Award Winners for 2019 were Chuck Linnen for the Perpetual Trophy and Zahid Rameriz for the Young Lion Award. Congratulations to you both!
---
Surf Club Membership is $25 per year
(Contact us for lifetime membership options)
---
---
Calendar of Events
Our cause is Epilepsy Awareness
---
Huntington Beach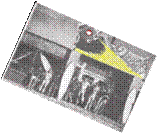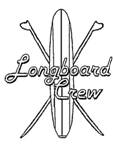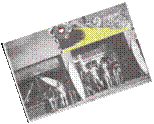 HB Surf Club and HB Surf Team
---
The Agenda for April 15, 2020
(next gathering will be May 20, 2020)
Welcome to the HBLC Surf Club, Surf Team and Friends
March Gathering at Cruiser's Pizza is cancelled.
Local Events-Past and Upcoming:
George Draper Paddle Out - TBD
HB Surf Team upcoming events:
Rincon Invitational on March 29 10-11am postponed; GOTT at Church Point on April 18-19; Logjam at Pleasure Point on April 25-26; Steamer Lane on May 23-24; CTTW at Malibu in July (TBA) will not count as a coalition event; Oceanside on August 1-2; MSA Classic on September 12-13; TBA later and will be held after September 2020 are PB/CSC event at Tourmaline, Swamis event at Cardiff and the WNS event at La Jolla Shores.
Talk Story
HB Cruiser's Pizza at 6pm-8pm
---
Locations of upcoming events for the HB Surf Team:
Pleasure Point, Rincon, Steamers, Malibu, Trestles, Oceanside, Cardiff, La Jolla and Tourmaline.
---
Our goal is to have fun while advocating for worthy causes such as Epilepsy Awareness (link to website)
Member's ages range from under 10 to over 90.
email the crew: info@hblongboardcrew.org
---
Huntington Beach Longboard Crew Surf Club Origins
Club and Surf Team merchandise can be picked up at our monthly gatherings. Our shirts are sold at Jack's Surfboards in downtown HB.
Our Ebay account has items for sale (link here)
---
Welcome to all of our new and returning members.
The HBLC Surf Club hosts monthly gatherings, a Surf Team and events throughout the year. The membership fee is $25.00 per year for an individual, a family or any business entity! Lifetime memberships are $150 for individuals. In order to join or renew your membership click the subscribe button and we will send you an acknowledgement by e-mail.
Come join us at our monthly gatherings.
The Huntington Beach Longboard Crew is a registered and
approved 501(c)3 California Corporation.
To send us snail mail:
HBLC
9121 Atlanta Avenue Suite 623
Huntington Beach, California 92646
email the crew: info@hblongboardcrew.org
---
HB Surf Club and HB Surf Team Blog:
In December 2017, our Christmas Party went off at Mario's Mexican Restaurant with the 2017 Perpetual Award given to Rick Ischinger. 2017 Woman of the Year awarded to Diana Sullivan, 2017 Comeback Competitor awarded to Felipe Bascope and our 2017 Young Lion award went to Jovan Smith. The raffle Wind and Sea MB surfboard was won by Don Bigelow. Lots of other raffle winners and all dues paying members got a free dinner! Thank you to all members who brought their dues current for 2018. These members will receive a XX18 patch for their jackets at the January meeting. The Chuck Dent RL raffle surfboard should be awarded at the January meeting.
The year started off with the first gathering at Marios on a positive note of hope for the new year. The HB Longboard Crew's charitable causes for this year include Epilepsy Awareness and some related events. Last November was National Epilepsy Awareness month at the Disneyland Hotel. International Epilepsy Day is February 12, 2018 (second Monday in February). The HB Surf Team is continually reforming and evolving as members change age groups and new members come forward to compete. Our team this year has a range of abilities where the more seasoned competitors will be schooling the less experienced in the ways of impressing the judges. Each venue has its qualities and strategies for the best ride to showcase your talents. Listen and learn from the surfers who continually make the next rounds.
February started with the 32nd Annual HBLC Pier Paddle Race. As in previous years we held the race in honor of Ace Aseltine, Sophia Bartlow and Butch Van Artsdalen. Paddlers named who they were paddling for at the start of the race. The results were 1st Shane Jones 6'24"; 2nd River Mungall 7'2"; 3rd Dylan Zazueta 7'7"; 4th Maddie Camargo 8'11"; 5th Steve Hafke 8'16"; 6th Asa Defour 8'26"; 7th Geraldo Santos Neto 8'49"; 8th Kip Kennedy 8'50"; 9th Lee H. Graham 9'1"; 10th Gary Stearn 9'15"; 11th Morghan Boozer 9'27"; 12th Mark Pynchon 9'51"; 13th Noel Terrado 17'25"; 14th Tina Toulouse 17'25"; 15th Laurel Gurley! Cograts to all paddlers! After the race we headed to the Surf City Marathon's Sand Bar that we hosted again. The gathering at Marios fell on Valentines Day this year and the newly weds showed up to win the Chuck Dent raffle board! Congrats to Mike Watson and all the other raffle winners. The surf team headed up the Morro Bay for the coalition event, The Big, Bad and Ugly Surf Contest. Dave Hilts finished 6th and Tim McCollum finished 8th wjich placed the team in 6th Place out of the 10 teams/clubs entered, way to go!
March 11th was our time slot for the Rincon Invitational. The waves were small and barely breaking but it was for a very worthy cause! Sophia Bartlow's Scholarship Fund. Little did we know that our friend Sumo Sato was also with us that day as he left us for that point break in heaven. Thank you to all who entered whether you showed up or not! Your donations help fund two scholarships this year! RIP Sumo Sato, Ace Aseltine and George Downing!
April 14, 2018 was the 12th Annual National Walk for Epilepsy. This was the day we celebrated Sumo Sato's life with a huge paddle out. Some wore a purple wrist band for Epilepsy Awareness. We are not participating in the 2019 Epilepsy Awareness Walk as it was too late to register properly for this years' walk although we encouraged all of our members to join in the walk or paddle out if they were physically able. Bill Fury has been instrumental in keeping us informed about the deadlines and plans for future walks. We are also planning more paddle outs (Ace) and a possible Day at the Beach for epilepsy and spectrum surfers. The main walk is on the National Mall but we will plan a local walk for our members. Registration opens in July 2018 for the April 27, 2019 Epilepsy Foundation's Walk on the National Mall to ensure health care options remain strong for people living with seizures. This is a walk to ensure research for better treatments and cures. The April 14th date conflicted with the Gathering of the Tribes at Church Point, Trestles but we still were able to field a surf team. 19 teams showed up and our team pulled an eleventh overall. Standouts from our HB Surf Team were Dylan Zuzueta advancing to round two with a ninth place overall (Finn Reyes got 8th); Amy Reda finished 4th overall; Tim Reda finished 7th overall; Larry Casas in 17th which contributed team points; Steve Mather in 19th and Dave Hilts in 25th place contributing team points! Congrats to all participants! Later in April the HB Surf Team headed up to Santa Cruz for the Logjam. Amy Reda finished second with Tim Reda finishing first! They also entered and placed 5th for the Aloha Team category. Tim finished 7th in the Hot Dog Logger category, too! Our team finished 8th overall thanks to supporting roles from Dave Hilts and Ben Barnes. Congrats to our HB Surf Team rippers!
May started on a positive note as we welcomed and celebrated new members Elvis Davis, Cory Schoenborn, Priscilla Weaver-Rouse, Tina Toulouse, Laurel Gurley, Dylan Zuzueta, Albert Zuzueta, Tim Reda and Amy Reda. The passing of members Father Chris Mondor and Ross Nash found us planning more paddle outs. Thank you to Don Bigelow who really stepped up to help bigtime with all the paddle out arrangements and thank you to Tina Toulouse for your tireless efforts to create and deliver all the leis. Your efforts do not go unnoticed! The month ended with the HB Surf Team in Santa Cruz again for the Memorial Day Classic at Steamer Lane. We finished 13th out of 14 with Howard Keiliinoi finished equal 16th; Dave Hilts finishing 3rd in Presidents' heat and 15th in Legends Men. The overall standings going into the summer season for the HB Surf Team is 8th Place! Windansea is in first, Pedro Point is 2nd with Santa Cruz, Oceanside, Doheny, Malibu Surfing Association and Big Sticks in 3rd thru 7th Place. Individual standouts 2018 year to date include Tim Reda in 4th Place; Amy Reda in 1st Place; Dave Hilts in 10th Place. Great work!
June started off to a poor start as we were asked to change our gathering date by Mario's with all the grad nites coming up. The Monday change was not well attended. Those in attendance were treated to our last night at Mario's for a while. We decided to change the venue to Cruisers Pizza Bar Grill on 5th Street downtown HB. Same time slot, 6-8pm. Happenings were the HB Cult Pro-Am and the Coalition of Surf Clubs Presidents' Meeting at Dukes Malibu on June 2nd.
Paddle outs this year for Randee Williams, Ross Nash and Father Chris Mondor were held at the pier. Thank you all who supported by paddling out or simply attending the paddle out.
The summer ended with a bang as the summer swells lit up the coast! A couple of gatherings at our new digs were attended by the core crew and some new members. Cruisers Pizza seems to be a good option as some of our downtown members can now walk or ride a bike to our gatherings. Last month we had the finals of the Relik Lowers event streaming live during our meeting. Thank you to Cruisers Pizza for setting up the connections to their big screen TV and providing the sound equipment! Adam, our bartender has already gotten to know some of the club members by name. Bud, our host at Cruisers Pizza has been very helpful and welcoming. Please all show our hosts the respect you would show anyone who opens their home to you. There is limited service so please feel free to belly up to the bar and Adam will have the food delivered to your table. See you there!
Summer Coalition of Surf Clubs events were two Malibu contests and one event at Oceanside. We had our surf team at all three of these Coalition of Surf Clubs' Tournaments. The coalition year ends with three more events at Tourmaline Surf Park, Cardiff Reef and San Miguel, Mexico. We had our team in two of these last three. There are a couple of other events our team members attended including the Joel Tudor Duct Tape event in San Diego County and the Puerto Rico WSL event that our longtime member, Barry Church is promoting as the world longboard qualifying event for North America this year. HB Surf Team members Amy and Tim Reda attended both events. Amy won prize money for her fourth place finish in Puerto Rico. A popular local event, the Triple Crown of Retro Surfing was won by club member Dakota Faircloth this year. Congrats to Dakota who has been surfing the pro longboard tour this year. Member Jeremy Guilmette has also been showing up for the pro events.
New shirts are out and the lucky members who came to the November gathering were awarded with a free shirt. Seahag has a few left and is handing them out to members in good standing. Have you paid your dues? This latest drop by Jacks Surfboards include five colors and two different styles. They are at the Jacks Surfboards Huntington Beach store on Main Street if you want to get some for the holidays. Jacks is having a Black Friday sale all weekend!! 50% off!!!
The paddle outs recently include John Mitchell and Bob Ballou. Aloha and RIP.
We had a great Holiday Party just before Christmas at Cruiser's Pizza with two bands, raffle, auction and year end awards. Max Lambert is the 2018 Young Lion. Tim Reda is the unanamous winner of Comeback Competitor for his brain tumor battle while winning events on the coalition tour and competing on the WSL longboard tour. Tina Toulouse wins Woman of the Year for her selfless duty to all events in the local area whether it be flower leis, ti leave leis, adorning the Duke or just whatever she is needed for, Tina is there! Our Annual Perpetual Trophy goes to Al Schuyler for his never ending support and guidance after fighting his own comeback battles. Al has rejoined the board of directors for the coming year. The holiday party was a fundraising success!
The year ended on a sad note with the news of Gilbert Roybal. May Gil rest in peace.
2019
The year starts with the sad news with news that Bob Perkins, Chris Catell and Dick Dale have passed.
Now as April 2019 begins we hear of Big Lee Nesmith's passing on April 3, 2019. Lee was one of our founding members. Another member, Kenny Weems has passed in May 2019. We will be holding a paddle out for these recently passed members on July 13th after our Annual Pier Paddle Race.
April 13 and 14, 2019 we gathered down at Church for the Gathering of the Tribes event. This year 23 teams entered and we pulled twelfth place overall with 790 points. Club standouts were Zahid Rodriguez with a third place in Under 15, Jovan in ninth for 15-19 Junior Men, River added points in the 20-29 Mens, Drew Milton in the 30-39 Senior Mens, Noel and Tim in the 50-59 Grand Masters, Gary and Terry in the Legends, Noel in the Grand Master shortboard and finally Ralph Yeramian, ex club president in the SUP division for more team points. Congrats to the team!!
April 27th the surf team had entries at the Logjam with the Reda's showing their prowess in the face of pregnancy! Amy helped but did not enter due to this but Tim came away with the second place victory while our guest from Puerto Rico, Zahid Rodriguez and Terry Carmadella added points with their performances. Tim and Zahid surfed the Aloha heat for the team. Together the team took 7th place out of eleven teams entered with 2511 points total. Congrats on the great job for a very small team!
The Memorial event at Steamer Lane was missed this year.
The long hot summer saw the surf team attend the Oceanside event in August after skipping the Call to the Wall this year. Reasons for missing were many but the deciding factor was that nobody signed up! We did have a few sign up for the Oceanside event and Gary made the President's final at that event.
October 5th was the annual Tourmaline Club Challenge. We had one surfer and finished 12th (last). Thanks for representing us, Duncan McClane. Duncan was a guest surfer as he has yet to join the club. The annual Cardiff Return to the Reef saw one surfer, Tim McCollum. We placed tied for 13th place (last).
Wow, 2019 has been a year of changes. So many of our members are experiencing this and if one thing is certain, the changes will continue. We are always hoping for a return to balance with the "good" changes returning to us all as we have had enough of the "hard to deal with" changes. Another paddle out on November 17th with Donna Asperen and Robert "Bob" Asperen, another founding member of the club. Bob was always there for the club members and is known for his military service, teaching position and mentoring youth.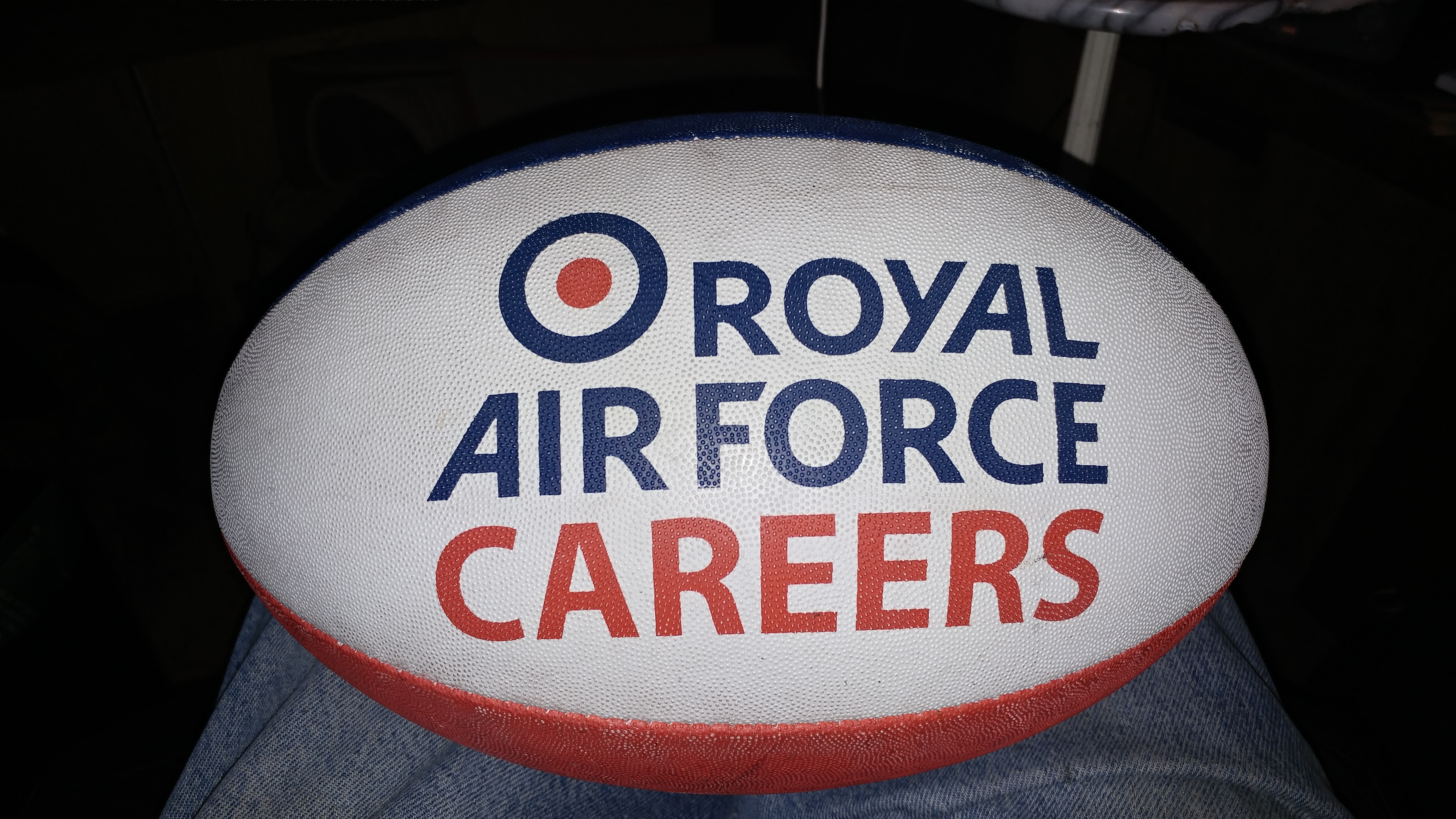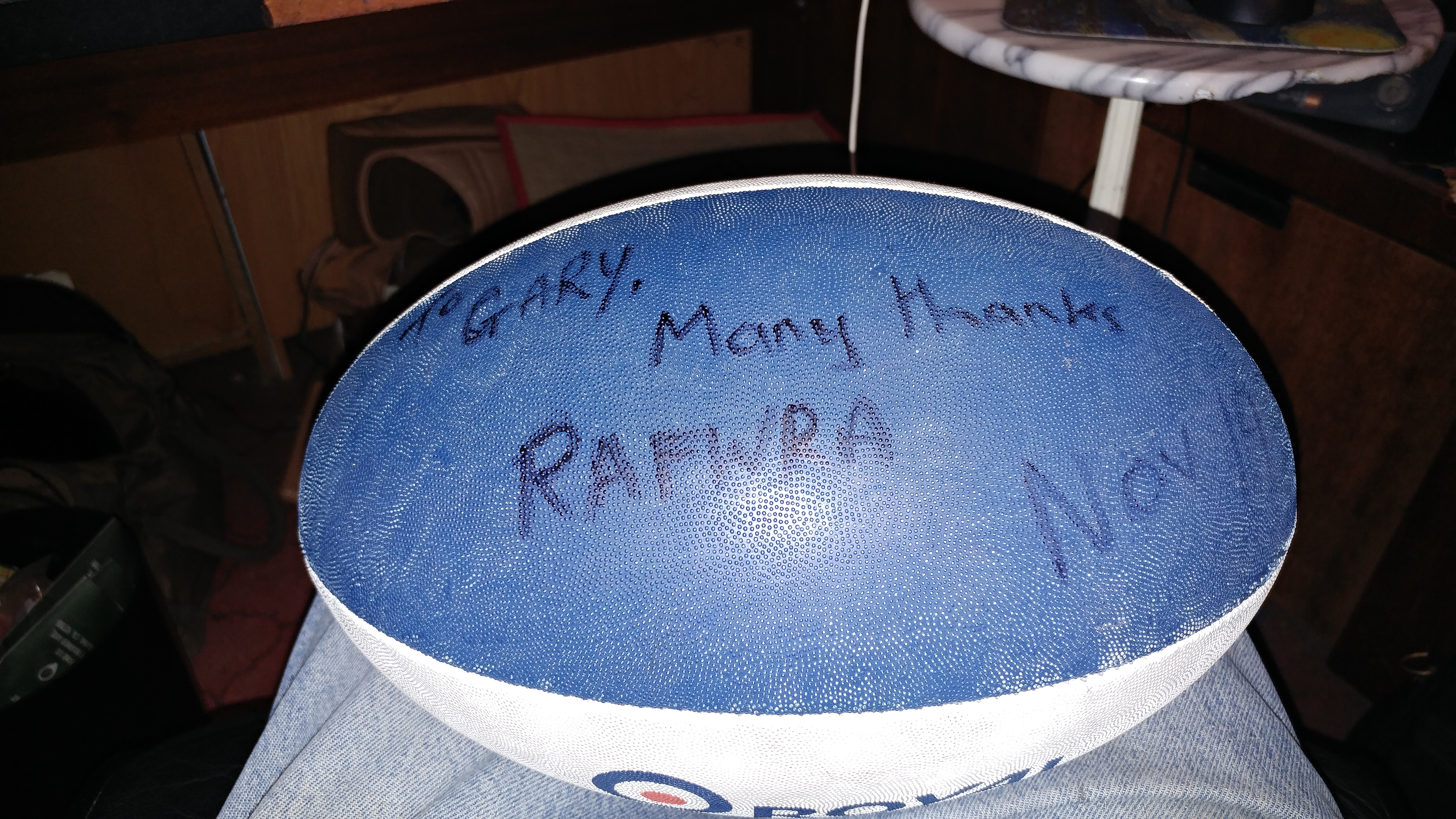 A rugby ball from the Royal Air Force Wave Riders Association awarded to the HBLC Surf Club president for help during their trip here in California. This UK surf club had about twelve arrive in mid November and stopped for a surf on the Northside. They borrowed a couple of boards and a leash from Seahag before heading south to Oceanside. Club member Jim Mizell showed some hospitality while they spent a week or so there. They left a shirt, rugby ball and some ding repair help for a couple of pukas in the Go Green board they borrowed. They all had a great time and said if ever a HBLC club member heads their way give a shout.
As we end the year 2019 we hope for a renewal of the commitment here in Huntington Beach to our surfing heritage. We have always resisted the influx of shoulder hoppers and maintained our sense of pride at the long standing position in the history of our sport. As we see the sport rise to the level of The Olympics, we also see the worst of the worst as non-surfers position for a drop-in that can and will hurt some of the locals. Now is the time for solidarity and unity. Resist the urge to sell out and let's plan for a great 2020!
Congrats to the 2019 Perpetual Award winner, Chuck Linnen! Watch for his new book to come out 2020, High Tide, Low Tide.
2019 Young Lion award goes to Zahid Rodriguez from Puerto Rico!
Merry Christmas and Happy New Year from the Huntington Beach Longoard Crew!
So far 2020 has been a slow start with many things not settled for all of us. We are hoping to see things get back to whatever becomes the new normal for us all. Please be safe and keep the faith that we can overcome any obstacle big and small. Our January and February talk stories were held at Cruiser's Pizza. We have new members and old members coming to these gatherings that we have not seen in a while. It is great to see old members renew their relationships with the club. The new members are bringing a breath of fresh ideas and energy. Although we cancelled the March gathering and Rincon Invitational has been postponed, we are hoping that this pandemic is stopped and we get back to normal as soon as possible.
---
Custom Search
©2020 Huntington Beach Longboard Crew• All Rights Reserved